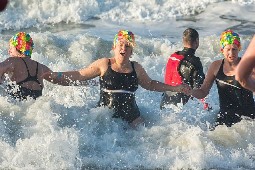 WINTER BATH FESTIVAL
JUMP IN THE SEA for the New Year with oysters and champagne
Most people know the New Year tradition of jumping off a chair and into the new year.
On New Year's Eve, in Søndervig it is possible to turn the traditional small jump into a huge cold splash - with a jump directly into the North Sea.
Søndervig Center Association and Holmsland Klit Tourist Association hold a Winter Bathing Festival every year at the end of Badevej on the Strand by Søndervig. The event is a run-in that attracts more than 1000 participants, all of whom get to wash off the old year before partying into the new one.
Information
Winter bathing clubs and bathers from near and far are invited to Søndervig beach, where they are treated to a menu consisting of the cold, inviting West Sea as a main course with free champagne, oysters and wreath cake for dessert, but it is not only Winter bathing clubs that are welcome.
ALL healthy and fit people are welcome to this refreshing event, which the organizers hope will become a tradition in Søndervig A real West Jutland NEW YEAR'S CURE!
The holiday rental agencies support and have sent out offers to Winter Bathing Clubs in both Denmark and Germany and together with the organizers hope that the Søndervig Winter Bathing Festival will once again become a success.